Four Steps to Glowing Skin All Year Long
The beginning of a new year. A fresh start. It's the time of year where we make resolutions to finally learn to play the guitar that's been collecting dust in the corner or to drop those pesky ten pounds we've been meaning to lose. Some of these goals can feel unrealistic and frankly uncomfortable. We declare them at the beginning of each year only to find that they teeter off about mid-February.
What if there was a resolution we could actually stick to that made us feel comfortable in our skin? Something to make us feel confident and improve our physical and emotional well-being.
Great skin might seem like a lofty goal to some of us, but it truly can be done in a simplified way. A good skincare routine doesn't require a dozen products. It can easily be broken down into four simple steps. Follow this guide and you will be pleasantly surprised at how your skin improves. iS Clinical's Four Steps to great skin is something you just might be able to stick to all year long!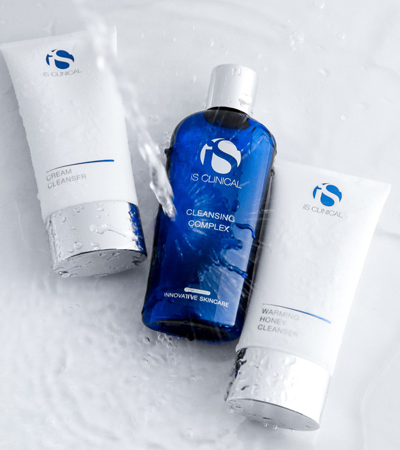 STEP 1 – CLEANSE
Every great skincare routine starts with a good cleanse. If you do not thoroughly cleanse your skin and remove dirt, debris and pollution, the healthy ingredients of your products cannot get through the skin's barrier to do their work. This is the first step to better skin as it can help reduce congestion and breakouts while providing balance and freshness to your skin. iS Clinical cleansers are ideal for all skin types, ages, and genders. They are gentle yet effective, able to deep clean, and mildly resurface the skin without causing irritation or dryness. Bonus: Cream Cleanser and Cleansing Complex even remove makeup! Try one or all three to get a complete and effective cleanse.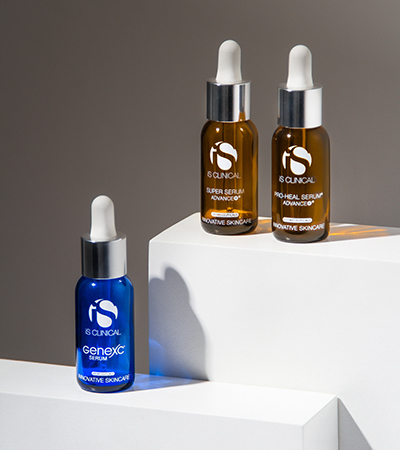 STEP 2 – TREAT
The second step in your skincare routine is to treat your skin. This step will allow you to target specific skin concerns and conditions. iS Clinical formulates a broad range of customizable serums and complexes clinically proven to improve the appearance of aging skin, blemishes, uneven skin tone, dullness, enlarged pores, and more. Select your chosen treat products depending on your desired outcome and individual needs. Many of our treat products are also multitaskers! Perhaps you will benefit from a Vitamin C serum that offers antioxidant protection and healthy nutrients to your skin; or the addition of an exfoliating product to remove dead skin cells will be your skin health game changer. Shop this category here to find the best solution to treat your skin.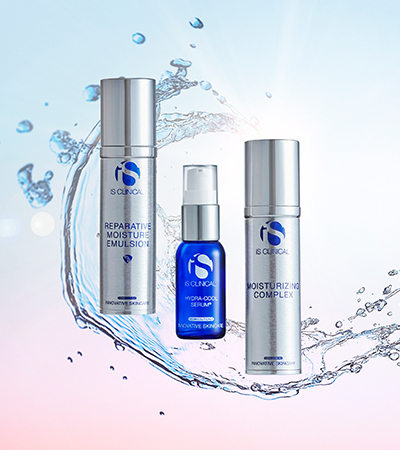 STEP 3 – HYDRATE
After cleansing and treating your skin, the third step is to hydrate. Hydration is key for healthy skin. Additional hydration replenishes and balances the skin's moisture levels to maintain the feel of improved skin texture, firmness, and resilience. Changing seasons might influence the hydration product that you choose. Perhaps in the warmer months, you would prefer something lighter and refreshing like Hydra-Cool Serum. While in colder winter months, you're ready to layer on more soothing creams, like Moisturizing Complex. A great medium-weight moisturizer to try is Reparative Moisture Emulsion. Our most popular hydrate product is packed with Hyaluronic Acid and reparative Extremozymes. It also wears well below makeup. Our hydrate products help to dramatically improve skin's texture and moisture levels without clogging pores.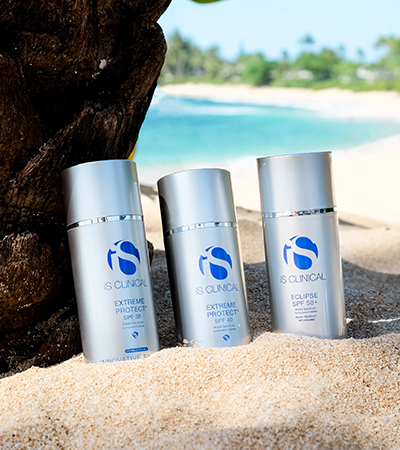 STEP 4 – PROTECT
The final and incredibly important step is to protect! Protecting your skin from the sun's harmful rays is a requirement to all skincare routines, no matter the season, temperature, or skin goals. Applying a broad spectrum UVA/UVB sunscreen is essential for maintaining skin health and particularly preventing skin cancer, premature aging, and hyperpigmentation. All iS Clinical sunscreens are formulated to protect the skin against sunburn and the visual signs of photoaging. Try a tinted sunscreen like Extreme Protect SPF 40 in Beige or Bronze to add a little glow to your skin while still thoroughly protecting it. Additionally, make sure to check out our new PerfecTint Powder SPF 40! This product is perfect for easy, portable reapplication on the go. Shop sunscreens here.
A skincare routine doesn't have to be overly complicated. This simple four-step regimen will allow you to stick to something realistic while delivering fantastic results! You'll feel comfortable in your skin and have the bragging rights to share with your friends that you stuck to your goal all year long.